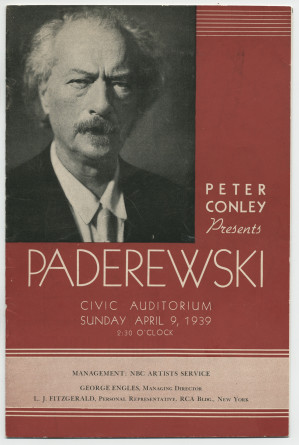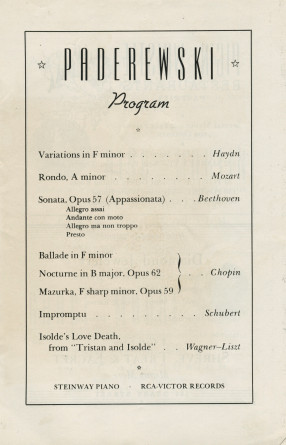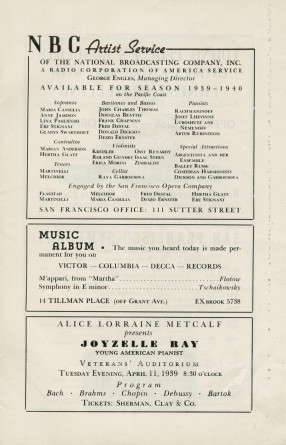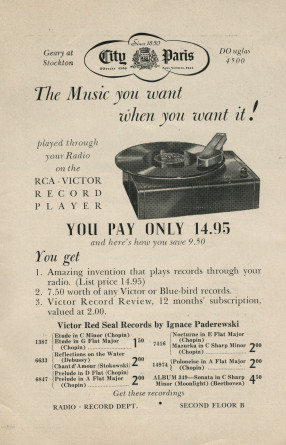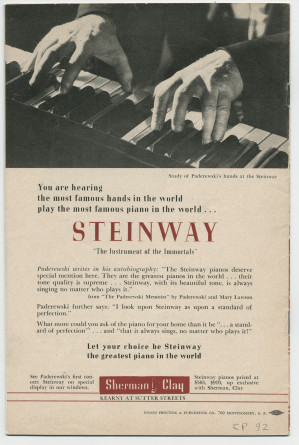 Libretto du récital donné par Paderewski le 9 avril 1939 au Civic Auditorium de San Francisco (Californie)
N° d'inventaire:

AM-1939-04-09

Type:

original

Date:

9 avril 1939

Source:

coll. Musée Paderewski, Morges

Au programme: Haydn, Mozart, Beethoven (Sonate «Appassionata»), Chopin, Schubert, Wagner-Liszt. Organisation: Peter Conley. Management: NBC Artists Service. Managing Director: George Engles, RCA Bulding, New York City. Personal Representative: L. J. Fitzgerald. Dans le libretto: liste des artistes de NBC Artists Service disponibles pour la côte Pacifique (saison 1939-1940), publicités (RCA-Victor Record Player disponible à San Francisco chez City Paris et au dos «You are hearing the most famous hands in the world play the most famous piano in the world… Steinway, the Instrument of the Immortals», représenté par Sherman & Clay).